Support your immune system and your mental health this Winter with these four healthy tea blends for Winter.
Winter can be a tricky time to keep up with good health.
With the holiday atmosphere everywhere and food flooding in households, it can be hard to keep track of your diet.
Drinking tea amidst this season can help you get away with those entire food intakes though.
Tea has been known to suppress appetite and increase metabolism. Isn't that great?
Not only is tea a warm and pleasant ritual of self care, it is also the oldest and easiest form of herbal medicine.
Give your insides a warm bath this winter by trying out these healthy and tasty tea blends at home.
Or if you'd like to make your own blends, check out Herbal Academy's herbarium, where you'll find hundreds of herbal monographs for only $45/YEAR!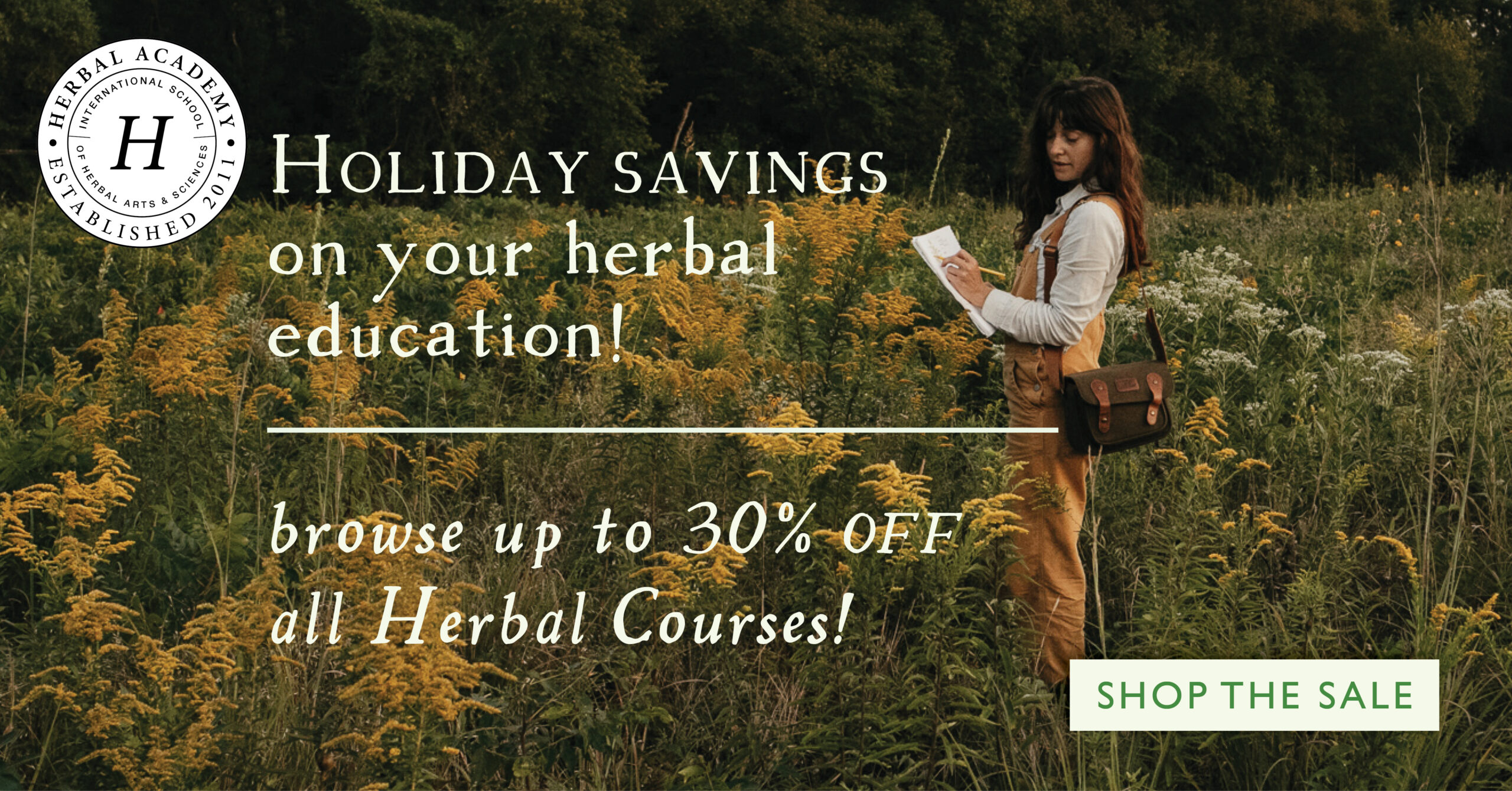 Tea Blends for Winter
Berry and Flower Spice Tea
There are many ways to enjoy your tea this Winter, and this recipe is made with dried ingredients, including dried elderberries which are packed with antioxidants and vitamins that can help boost your immune system.
Calendula flowers are also packed with antioxidants and may help in promoting wound and skin ulcer healing.
Check out my complete post on the 5 Top Benefits of Calendula Tea.
It may also combat certain types of cancer cells. These are just some of the benefits that two of the ingredients of this tea's recipe bring.
For this, you will be needing one teaspoon for the following—
dried elderberry berries
dried holy basil leaves
dried Calendula flowers
dried rose petals
You will also need half a teaspoon of dried ginger root or chopped fresh ginger root, a teaspoon of cinnamon chips or one cinnamon stick, and 12oz of boiling hot water.
Start by placing all herbs in a heatproof container and cover with boiling hot water. Allow this to steep for a good 15 to 30 minutes.
Strain and serve. You may also opt to serve with honey.
Vitamin C Herbal Tea
Catch that pun right there? This tea is high in vitamin C and is a great drink for the cold season.
This recipe needs:
4 tablespoons of rose hips
half a teaspoon of lemon peel
1 teaspoon lemongrass
1 teaspoon cinnamon chips (broken up cinnamon sticks)
a pinch of hibiscus flowers
a pinch of fennel seeds
and four cups of filtered water
You can also use raw honey or fresh fruit juice for this recipe if you want.
Start by combining all dried herbs in a medium size bowl and store extra herb mixture in an airtight glass container in order to keep its quality.
Boil water in a medium-size saucepan or in a tea kettle and remove from heat.
Add 4 tablespoons of the herb mixture to the boiled water and cover. Allow this to steep for a good 45 minutes and strain.
Before serving, you may sweeten the tea by adding in a small amount of honey or fresh fruit juice.
If you wish to retain the healthy benefits there is to honey or your fruit juice, you can add them once the tea has cooled slightly.
Make sure to store this tea inside the refrigerator and consume in a week.
Rose hips are rich in vitamin C and may help reduce symptoms of knee and hip osteoarthritis. It also helps the immune system fight off foreign invaders.
Lemongrass relieves anxiety, lowers cholesterol and boosts oral health, while hibiscus is rich in antioxidants and helps lower blood pressure and blood fat levels.
Fennel seeds may improve heart health, reduce inflammation and can even provide anticancer effects.
Calming Linden Tea
All these health benefits and more are packed within this healthy tea blend. Get hydrated and nourished this winter with this blend!
Winter nights can be long and stressful. As linden tea has always been known to help you sleep, this tea can help you get a good night's sleep and also has a great deal of other health benefits, too.
The ingredients you will be needing for this tea are
2 teaspoons of dried linden leaf and flower
1 teaspoon of dried spearmint
1 teaspoon of dried Calendula flowers
a pinch of catnip leaf
a pinch of lavender blossoms and
12oz of boiling hot water.
This tea blend is pretty easy to prepare.
Start by placing all herbs in a heatproof container and cover them with boiling hot water.
Allow this to steep for about 15 to 30 minutes. Strain and serve. You may opt to serve with honey, too.
Not only does linden tea help promote relaxation, but it also helps fight inflammation, reduces mild pain and is linked to lower blood pressure.
As this recipe is good for one big mug, let this cup of tea lull you to sleep this Winter!
Lemon and Pepper Tea
Lemon is a delicious and a very healthy fruit. It supports heart health, helps control weight, prevents kidney stones, reduces cancer risk, and improves digestive health.
The list can go on with all the healthy benefits you can get from lemon.
On the other hand, pepper is high in antioxidants and has anti-inflammatory properties. It also benefits your brain and improves blood circulation, too.
Pepper may have cancer-fighting properties as well. And, as we all know, is a very versatile spice.
This two in one tea helps boost your immunity on your low days.
Just get yourself:
one lemon
half a teaspoon of turmeric powder
a quarter teaspoon of pepper
1.5 teaspoon of honey
Place the pepper and turmeric in a cup of boiling water. Add lemon juice and honey to the mixture and you're good to go!
This tea is excellent for detox and reducing achy joint pains, too.
Change the atmosphere of your evening with this hot cup of tea. Maybe sit around the fire with the family and enjoy a pleasant talk over a healthy cup of tea.