Whether you're just learning about herbalism, or are looking for a way to get more use out of these easy-to-grow herb, so I'm sharing 9 awesome ideas for uses for lavender leaves around the homestead.
Both lavender leaves and flowers can be used for a number of different purposes on the homestead!
Use lavender leaves for tea, use lavender essential oil to relax, or use it to attract pollinators!
Lavender is one of the budding herbalists' best friends.
If you're not familiar with using lavender in the medicinal sense, I highly recommend checking out the post I made: Medicinal Plant Profile: Lavender.
One of the best short-courses from Herbal Academy is their Materia Medica course.
They walk you through how to create intense monographs on individual plants to help you self-study herbs and their medicinal properties.
It truly is the best way learn medicinal herbs intimately.
For more info click on the banner below: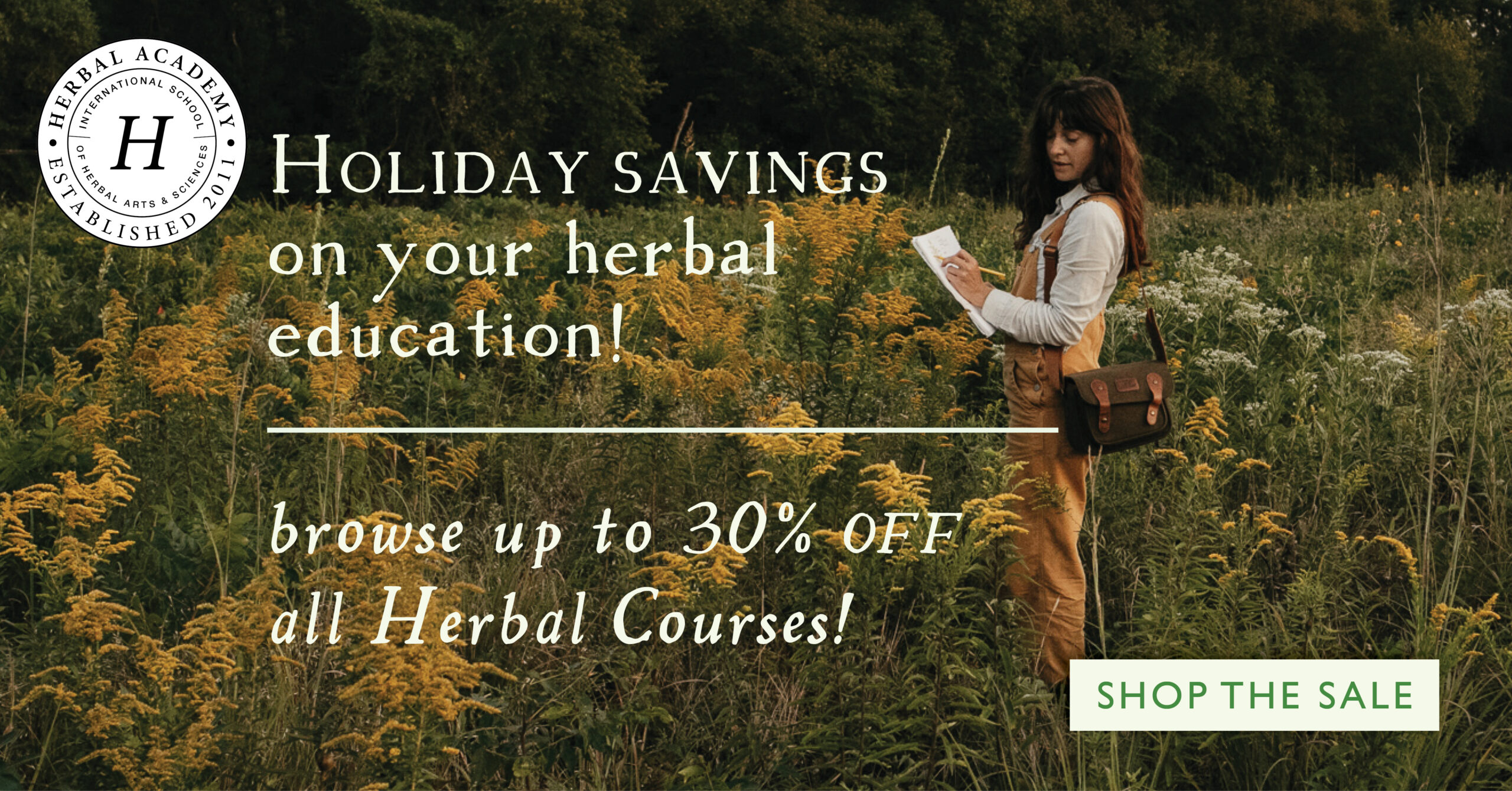 But just to refresh, the natural constituents in lavender lend it to provide many benefits and uses.
It is a nervine, meaning it helps calm and support the nervous system at the same time.
It also has analgesic and antimicrobial properties that make it effective at treating injury and illness.
Here's a short synopsis of how you can use lavender medicinally:
Headache
General Pain
Hay Fever/Seasonal Allergies
Bug bites and stings
Burns
Menstrual cramps
Insomnia
Nasal congestion
Soothing skin irritation
Mouth ulcers
Antimicrobial action for wounds
Athlete's foot
Muscle cramping
Alzheimers and dementia
Pregnancy – helpful to treat stress, anxiety, headaches, backaches, labor pain relief and postnatal wound healing, and postpartum depression
Diaper Rash – lavender hydrolat can be used on babies
In addition to helping treat the conditions above, you can also use it in 9 additional ways:
9 Uses of Lavender Leaves on the Homestead
1. Homemade Cleaning Products
Part of living a more simple, natural life is systematically reducing the store-bought chemicals in our homes.
I feel much better cleaning with natural things like vinegar and essential oils than mystery chemicals in a bottle.
Lord knows what we're exposing ourselves to.
There are a number of easy homemade cleaning products you can make with lavender leaves or lavender essential oil.
I keep a quart-sized mason jar with white vinegar below the sink in my kitchen.
I'll add orange peels, or sprigs of lavender, or mint, or whatever else I forage to it to help make a foundation for my homemade cleaning supplies.
I love spraying this around my door jam to get rid of ants and prevent them from coming back.
Lavender Carpet Cleaner
Combine 1 cup baking soda with 5-6 drops of lavender essential oil.
Sprinkle this over your carpet and gently work it in between the fibers and let sit for up to 1 hour.
Then vacuum as normal.
All Purpose Lavender Spray
Combine equal parts white vinegar and water in a mason jar with fresh sprigs of lavender and orange peel. S
train before putting it in a spray bottle.
For more lavender scent, you can add lavender essential oil to it too.
Or, combine 30 drops lavender essential oils to 1 cup vinegar for a more concentrated all purpose spray.
2. Lavender Satchels in Dresser Drawers
Simple satchels full of fresh or dried lavender flowers and leaves tucked into your dresser drawers does two things: the gentle shaking of opening and closing your drawers will release a lavender scent that is divine, and lavender is a natural bug repellent, so it will keep bugs and moths at bay.
If you sew, you can easily sew a bag, leaving a small corner open, fill it with dried lavender, and then sew it shut.
Or, you can buy these muslin bag and fill them with lavender instead.
3. Lavender Leaves Satchel in the Dryer
Another great way to imbue your clothes with the relaxing scent of lavender is to make the satchels above, and toss them into your dryer when you dry your clothes.
4. Lavender Air Freshener
Get rid of the frabreeze and candles and instead, mix 2 cups of water with 2 drops of lavender essential oil and keep this is a spray bottle for a natural, lavender air freshener.
I especially like using this on the couches where the dogs are NOT supposed to sleep…but always end up there anyway.
5. Uses For Lavender For First Aid
As I mentioned above, lavender can be used to treat a number of ailments, but having lavender essential oil, or a homemade lavender oil (made by heating up a carrier oil and lavender leaves and flowers) in your first aid kit is a good idea.
Use it to rub into aching joints and muscles, to treat sunburns or bug bites, massaged into your temples to ease headaches, or massaged onto little ones to help them fall asleep at night.
For a great video from my friend from Learn to Grow on how to make your own herbal infused oils, check out her videos below:
6. Help With Insomnia
A lavender tea is a great, easy way to help prime your mind and body for sleep and can be a great evening ritual for those who suffer from insomnia.
If lavender tea isn't your cup of tea (hehe get it?), you can add some lavender essential oil to a difuser or take a few drops of lavender tincture under your tongue.
I'll often difuse lavender in the baby's room when I know he is over tired, or going to fight me during naptime.
I wrote a post on how to create your own tinctures including pictures and step-by-step instructions.
7. Lavender Leaves for Insect Repellent
Another great way to use your lavender tincture is as an insect repellent.
Dab your tincture over your exposed skin to keep flies and mosquitoes away.
If you need more immediate bug repellent, simply grab a handful of lavender, bruise the leaves and flowers a bit and rub them on your skin.
This is by far the best repellent I've ever found – even better than store-bought chemical DEET-laden ones.
And it smells much better!
8. Relaxation
We mentioned making your own lavender oil above for massage, but you can also add it to your bath water.
Or make your own lavender bath salts by mixing together 1 cup of epsom salt, 1/2 cup seat salt, 1/4 cup baking soda and 10-20 drops lavender essential oil.
Use 1/3 cup per bath.
Even simpler, you can throw some fresh sprigs of lavender into your bath water while it's running, or hang it under your shower head if you prefer showers.
Add a few drops of lavender essential oil to your hairbrush to gently expose yourself to the calming scent when you're nervous about something.
9. Lavender In Food
While lavender is edible and can be added to breads and cakes, you can also create a lavender simple syrup.
To make the syrup, combine 1 cup water, 1 cup sugar and 1 Tbsp lavender flowers or leaves.
Heat on the stove-top, stirring continuously under dissolved. Strain out the solids.
This lavender simple syrup can be added to sweet tea or lemonade, poured over vanilla ice cream, or added to coffee.
FAQs for Uses of Lavender Leaves
What are lavender leaves good for?
Lavender leaves can be both medicinal and edible. Medicinally it has been used for relaxation, anxiety, depression, antiseptic and anti-inflammatory properties.
Can you eat lavender leaves?
Yes! Lavender is often added to lemonades, pastries, simple syrups and more!
Do the leaves of lavender smell?
Lavender leaves have a gorgeous, luxurious smell that often provides calming aromatherapy.
Can you drink fresh lavender leaves?
Yes! While you can drink cold or hot lavender tea, if you let lavender steep for too long it can add a soapy taste to your tea.
Lavender leaves however are often added to lemonade for a delicious treat!
Experiment with it!
And for more lavender-y inspiration, check out 33 DIY Lavender Ideas
Happy Homesteading!