The Craft of Herbal Fermentation course was my first introduction to Herbal Academy.
And what an introduction it was!
If you've stumbled upon this course and want to know more than the typical sales copy, I've written up a completely HONEST review of the course for you.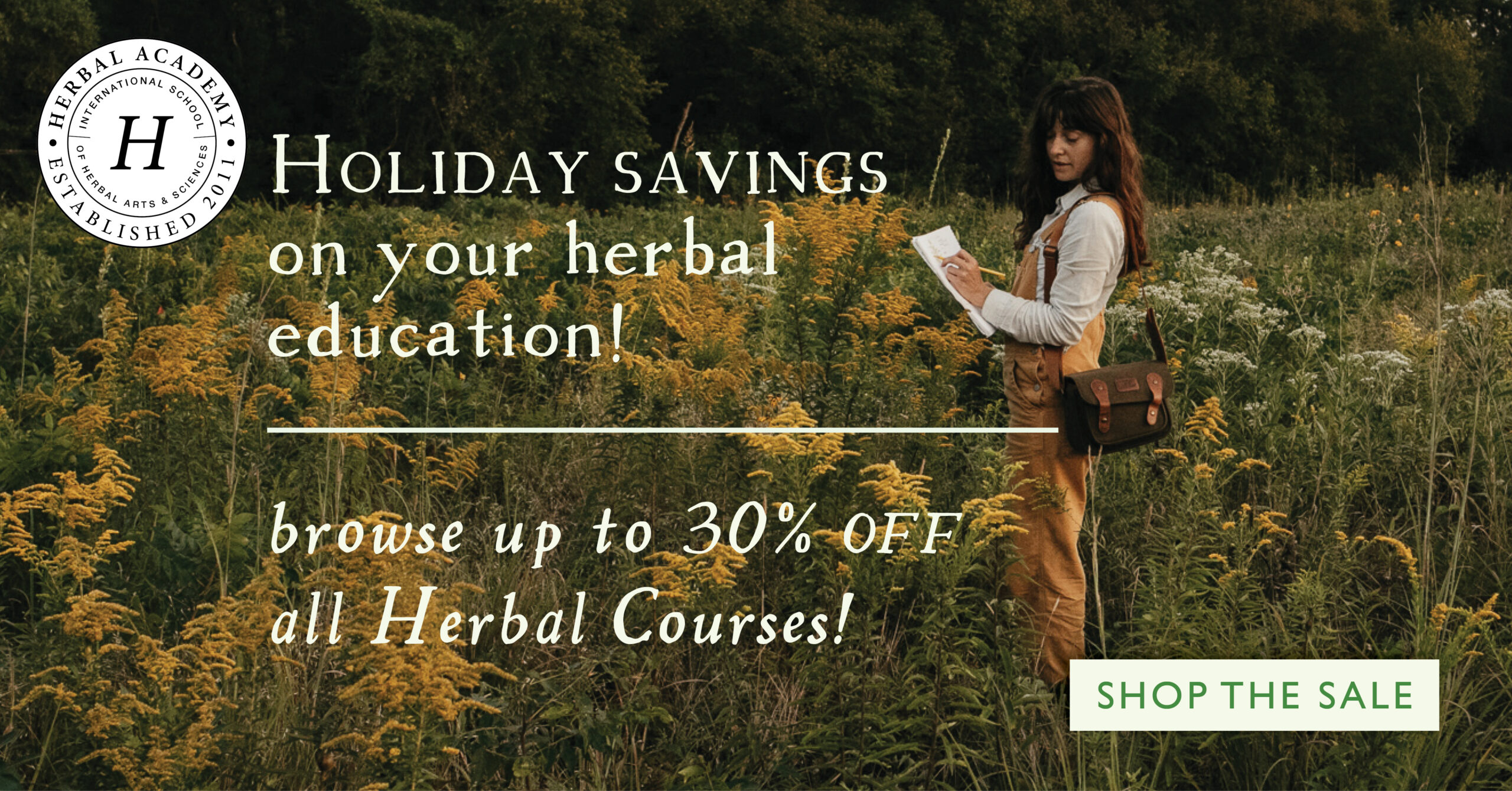 Hopefully it helps you make a decision one way or another.
I really enjoyed this course. I had always been a little intimidated by home fermentation.
I had made some beer and wines with cheap kits and the results were so…bleh.
If I couldn't do those well, I couldn't even imagine doing kombucha or kimchi!
I had heard about water kefir and lacto-fermentation, but I didn't really understand what it was all about and why it was supposedly good for you.
While this course doesn't go into enough detail (at least for me!) about the chemical reactions and the benefit to your gut, I recently took Herbal Academy's Herbal Self-Care for Stress Management course and it did.
Apparently the different microbes that fermented foods feed in your gut actually release hormones that can pass the blood-brain barrier — literally affecting your mood!!
But that's another post for another day!
If you've been to Herbal Academy's website, you'll find this outline below of the structure of the course.
I wanted to put it here again so it's fresh in your mind, or for those who haven't been to the website and to call out just how many bonus videos there are.
The Craft of Herbal Fermentation Outline:
UNIT 1
: Herbal Beer and Ales
Learn how to craft your own herbal beer and ales in Unit One of the Craft of Herbal Fermentation Course. Academy Educator Tara Welty, L.Ac. guides you through the process of incorporating herbs into your home brewing process.
She also explores the ways herbal homebrews can be used to celebrate the connection between plants and humans or even used ceremonially.
Unit 1 contains:
An Introduction to Brewing Herbal Beer

VIDEO – Herbal Beer Brewing Tutorial Video

VIDEO – A Subversive Guide to Herbal Homebrewing

VIDEO – Herbal Beer Tasting and Conversation
UNIT 2
: Herbal Mead
Learn everything you need to know to make spectacular herbal meads in Unit 2.
Academy Educator Marc Williams of Plants & Healers International discusses wildcrafting herbal ingredients, using herbs and spices from around the world, the different types of yeast that can be used for mead-making, and how to use a hydrometer to measure alcohol content.
Marc also explores the philosophical side of herbal meads by discussing the way mead can convey a unique story.
Unit 2 includes:
Herbal Mead Brewing Philosophy

VIDEO – Making Herbal Mead Video Tutorials

How to Brew Herbal Mead
UNIT 3
: Herbal Kombucha and Water Kefir
Kombucha and water kefir are yet another opportunity to use herbs during the process of fermentation to benefit from unique properties for health and wellness.
Erika Galentin, MNIMH, our Course Development Director, guides students through the brewing process.
Learn about the perceived benefits of kombucha and water kefir, as well as how much residual sugar, alcohol, and caffeine may be present in the finished brew.
Erika will also discuss the importance of good bacteria and the fascinating microbial ecology within and around us.
Unit 3 includes:
An Introduction to Herbal Kombucha and Water Kefir

Kombucha Brewing Basics

VIDEO – Herbal Kombucha Tutorial

VIDEO – Water Kefir Brewing Basics

VIDEO – Herbal Water Kefir Tutorial

Herbal Kombucha and Water Kefir Resources
For free guides, check out my posts on making homemade milk kefir and kombucha!
UNIT 4:
Lacto-fermented Herbs and Vegetables
Herbs can be used to add flavor and extra nutrition to fermented vegetables, and Unit 4 teaches students to lacto-ferment herbs either on their own or as part of the recipe with vegetables.
Academy Educator Ariel Martian introduces students to the process of lacto fermentation and provides recipes and tutorials that explore the ways fermentation can strengthen the bond between nourishment and healing.
Unit 4 contains:
An Introduction to Lacto-fermentation and How to Get Started

VIDEO – Herbal Lacto-fermentation Tutorial

Lacto-fermentation Instructions, Recipes, and Resources
Pros to the Herbal Fermentation Course
It walks you through, step-by-step the process of creating each of the products: beer, mead, kefir, etc.
It contains excellent videos as well for those who are visual learners.
Their online Facebook group is an excellent resource for questions or complaints, or simply to celebrate that you finished!
The printables (mailed to you for an addition fee) has so many amazing recipes that inspire you to get started! (more on those below)
It gives you just enough instruction and exposure to get you started walking down your own fermentation path.
Cons to the Herbal Fermentation Course
The online school set up is kind of clunky – you can't progress from unit to unit without clicking back to your name, and drilling down the the course and then the unit you want.
The material is only available for a year from the date you select "Begin Course" (not the day you buy it).
It can be a little overwhelming. They give you the building blocks, but it's up to you to go out and experiment, make mistakes, and develop your own recipes. (This is where I found the print-outs especially helpful – they give you just enough recipes to get you started to help you gain confidence before going out on your own.)
What you need to know before buying The Herbal Fermentation Course
At the right hand side of every unit is a link to save the entire unit to a PDF.
Do this!
While it obviously can't save the videos, I still printed the PDF's out and it was super handy to be able to go back to reference something.
Plus the class is only available to you for a year after you begin it, so having a printed version helps so much down the road.
You have a year – but don't loggy-gag. It took me four months to complete it.
That included starting a new job, and being busy with my husband out of town.
But it's so easy to procrastinate and think "oh, it'll still be there when I have time".
The Herbal Fermentation Course is short, but I still almost ran out of time!
Introduce yourself to the Facebook group!
They're such a welcoming community and a HUGE resource of wisdom and knowledge to pull from.
Don't be afraid to ask silly questions or share a fun story.
Seriously consider buying the laminated printables.
They're only $28, and they are so handy to have.
They're laminated so you don't have to worry about spilling on them, they have the instructions broken down into simple steps, and even list the recommended ways to sterilize.
I will read a step or a recipe half a dozen times between each step to make sure I've got it right, so having a printable in the kitchen with me is so nice.
It's like having a fermentation master in your kitchen with you at all times.
Well worth it!
Don't worry about having all of your equipment before you begin.
Think of this course as a weekend conference or class.
They'll show you how it's done, give you some recipes to try, but since you've bought the print-outs and printed the PDF (wink, wink), you'll be able to experiment and ferment on your own timeline.
The one thing you MUST have before you begin, though, is a fermentation notebook.
Take detailed notes.
When you begin to experiment, you'll want to keep detailed notes about your ingredients, amounts, length of time fermenting, etc so you can make changes to improve it!
For an example of one of the recipes I made after taking the Herbal Fermentation Course, check out my post Lavender Lemon Balm Beer.
For this recipe, I used what I learned from the class, took the herbs that were readily available to me at the time and experimented with it!
While it created a perfectly drinkable beer, you'll see at the bottom of my post what I would do differently next time.
I would also recommend buying The Art of Fermentation by Sandor Ellix Katz.
My husband got this for me for Christmas and it is such an exciting book!
It is filled with as many different fermentation recipes as you could ever hope for.
Where the Herbal Academy holds your hand through the process and shows you step-by-step, Mr. Katz takes off the training wheels and challenges you to try and try and try.
They're a beautiful compliment for one another!
If you're ready to buy, click on the banner below!
If not, I hope this review helped you at least!
Happy Homesteading!