If you're looking to deepen your herbal education, chances are you've found Herbal Academy.
If you've been looking at their Introductory course and are wondering if it's right for you, I've created this Herbal Academy Introductory Course review for you.
My Herbal Beginnings
Everyone who practices herbal medicine has a story about how herbs crept into the spotlight in their lives. This is mine:
As a child I would play in the woods behind my house until sundown.
An only child, I used the natural abundance of the forest to entertain me and created elaborate fantasies in my imagination.
I'm not sure how old I was, but one day in my wanderings I came upon an old metal wash-pan full of rainwater.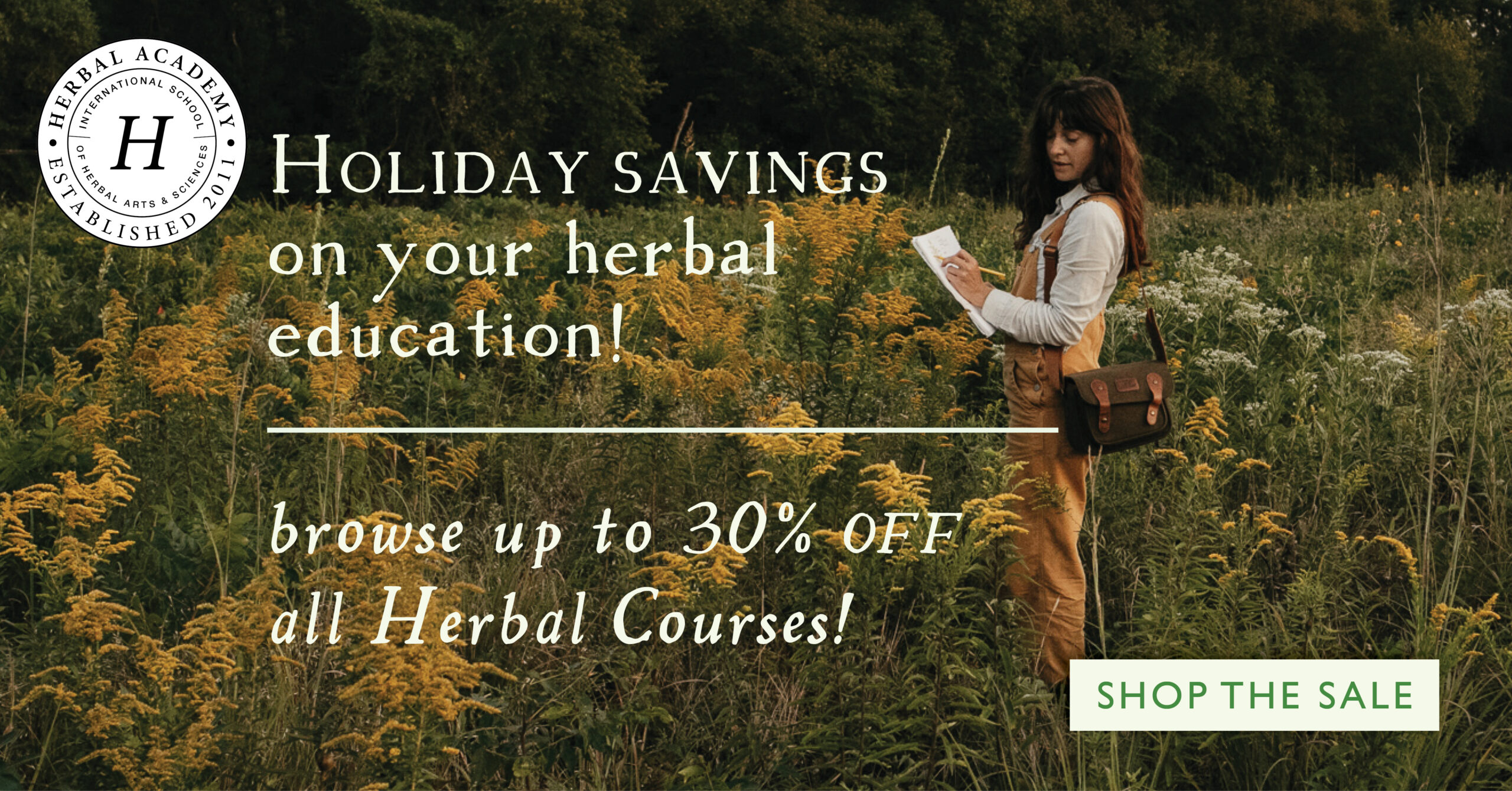 This became my magical cauldron.
I would collect leaves and sticks, stone and bones, mosses and dead salamanders and mix them all together in my wash-pan cauldron.
Even though I was only making pretend, I knew back then that the pieces that made up the world around us were magical.
Every plant, every stone had a magical, medicine property and energy.
As time marched on, I got older, and left my childish ways.
However, even as a teenager, I would steal my step-dad's herbs to mix together an herbal spell or two (much to his frustration).
As an adult, I unfortunately suffered a series of medical set-backs: chronic back pain due to a farm accident (ask me about this one later — it involves a llama 😉 ), depression, panic attacks, thyroid and blood sugar disorders, to name a few.
Disappointing appointment after disappointing appointment and I truly lost faith in the modern medical world.
Very few had any answers for me.
They wanted to prescribe me ever-increasingly invasive treatments to the symptoms, without ever addressing the cause.
I Turned Back to Herbal Medicine
I read a bunch of websites, I bought a bunch of books, experimented and failed a lot myself, before I came upon Herbal Academy's website.
To be honest, I was skeptical. Most websites I'd read were short, barely scratching the surface of what I wanted to learn.
Somehow, what I read in these sites never stuck.
I was reading, but I wasn't learning.
Even as I put to use what I was reading.
There was so much information out there, and still somehow…not enough.
Herbal Academy review = Introductory Herbal Course
I had previously taken their herbal fermentation course, so I was familiar with the online classroom and their style of teaching.
During one of their sales, I purchased the introductory herbal course – and I'm so glad I did.
They go into such detail, but make it easily consumable.
The course progresses like the outline below:
You can find this information on their website, but I've added where they have recipes, free printables and bonus videos to give you a better idea of the value and depth of instruction you're getting.
UNIT 1: HERBAL BASICS
Lesson 1: The Herbal Approach and World Healing Traditions
Introduction to the Course

What you'll learn
How to navigate the online class
Joining the FB community

Why Herbs?

How herbs generally make their way into our lives

European Herbalism (Greek and Roman Herbalism)
Traditional Chinese Medicine
Ayurveda
Herbal Energetics
How Do Herbs Work?
Whole Herbs and Synergy
BONUS DOWNLOAD: Herbal Glossary
Lesson 2: From Field to Apothecary
Choosing the Best Herbs
How to Store Herbs
BONUS: Printable Herbal Labels
VIDEO: How to Store Herbs Properly
Supplies for Making Herbal Preparations

Teas
Tinctures
Oils, Salves, and Balms
Herbal Vinegars

Store-Bought Herbal Preparations
Creating an Herbarium
BONUS: Printable Herbal Inventory Checklist
Lesson 3: Herbal Teas and Tinctures
Difference Between Water Infusions and Decoctions
How to Make Both
The Tea Book
VIDEO: Water Infusion Demo
BONUS: Printable Tea Book
BONUS: Printable Tea Tag Labels
Tincture Making

Folk Method
Mathematical Method

VIDEO: Folk Method Tincturing Demo
Tincture FAQs
BONUS: Printable Tincture Labels
BONUS: Printable Measurement Conversion Chart for Teas, Tinctures and Other Remedies
Lesson 4: Syrups and Topical Applications
How to Make Syrups
RECIPES: Syrups
Topical Water Extracts

Rinses and Washes
Baths and Soaks

RECIPES: Water Extract Recipes
Steams
RECIPES: Steam Recipes
Topical Infused Oil, Salve, and Balm
How to Make a Topical Infused Oil or Salve
BONUS: Printable List of Common Essential Oils
Crushed & Chewed Leaves and Poultices
RECIPE: Poultice
BONUS: Printable – what remedies are used internally vs externally
Lesson 5: Herbal Actions
Introduction
Herbal Actions Defined
BONUS: Printable Herbal Actions Terms
RECIPE: Bitters
Lesson 6: The Medicine Around Us
Tree Medicine
Common Trees and Their Medicinal Properties
RECIPE: Elderflower Cordial and Vinegar
Mushroom Medicine
Healing from the Sea
BONUS: Printable Herbal First Aid Pocketbook
Lesson 7: Anatomy Overview
Homeostasis
Holistic Health and the Body Systems
VIDEO: Anatomy Introduction
VIDEO: The Heart
Lesson 8: Offshoot: Native American Medicine
Herbal academy review: UNIT 2: COMMON DISCOMFORTS
Lesson 1: The Immune System
Overview of Immune Function
Immune Response
Some Components of the Immune System
Herbal Immune Tonics and Immunomodulators
Herbal Immune Stimulants
RECIPES – For Immune Health
Lesson 2: A Healthy Terrain
Supporting the Body with a Healthy Digestive System
Herbal and Food Energetics
Myriad Ways to Detoxify and Cleanse
Tonic Herbs and Adaptogens…What's the Difference?
Getting the Hazardous Chemicals Out: Natural Cleaning
RECIPE – All Natural Cleaning Solution
Lesson 3: Colds and Flu
The Respiratory System
Cough
Bronchitis
Influenza
Allergies
RECIPES – to Combat Colds and Flus
Lesson 4: Herbs and Children
The Wild and Wonderful Just Beyond the Back Door
Creating a Children's Garden
BONUS: Printable Window Box Garden
Common Herbs for Childhood
Safety and Dosing
RECIPES – Children's Cold & Flu Remedies (Including Herbal Cradle Cap recipe)
RECIPES – Yummy Food Recipes
Lesson 5: Herbs for Her and Him
Herbal Support for Women
RECIPES – For Menstrual Support and Pregnancy
RECIPE – For Grief Support
Herbal Support for Men
RECIPE – Blood Pressure and Prostate Support
Lesson 6: Materia Medica
A System for Organizing Plant Information
BONUS: Printable Materia Medica Starter Book
Lesson 7: Offshoot: Vitamin D
UNIT 3: KITCHEN REMEDIES
Herbal Academy Review: Lesson 1: What's in Your Kitchen
Spicing Things Up
Spices as Antibiotics Hypothesis
Getting to Know Your Spice Rack
RECIPE
Lesson 2: Kitchen Materia Medica
Speaking of Food, How Should I Eat?
Kitchen Herbs for Digestion
RECIPE – After Dinner Tea
Kitchen Herbs for Infection
RECIPES – Teas for Infection
Kitchen Herbs for Inflammation
RECIPE – for Inflammation
Nervine Kitchen Herbs
More Kitchen Herbs
Lesson 3: Kitchen Remedies, The Dooryard, & Wildcrafting
Herbal Vinegars
VIDEO: How to Make and Herbal Vinegar
RECIPE
Herbal Honeys
RECIPES
Culinary Infused Oils
RECIPE
The Kitchen Dooryard: Creating an Herb Garden
Wildcrafting and Foraging
BONUS: Printable Herbal Hike and Go Seek
A Few Favorite Wild Herbs
RECIPE
BONUS: Printable Plant Identification Key
Lesson 4: Demonstration
VIDEO: Make Your Own Herb Pesto
Lesson 5: Offshoot: Bringing it Home
UNIT 4: NERVOUS SYSTEM
Lesson 1: Overview of the Nervous System
The Brain
The Spinal Cord
Central Nervous System
Peripheral Nervous System
Lesson 2: Stress
The Physiology of Stress
Herbal Support for Stressful Situations
RECIPES – for Stress
Nervine Herbs
Lifestyle Considerations to Reduce Stress
Lesson 3: Headaches
Types of Headaches
Headache Prevention
Liver Support
Herbal Therapeutics
RECIPES – Herbal Remedies for Headaches
Lesson 4: Sleep
Insomnia
Herbs for Insomnia
RECIPES
Lifestyle Strategies
Lesson 5: Demonstration
VIDEO: Make Your Own Relaxation Tea
Lesson 6: Offshoot: The B Vitamins
UNIT 5: BODY CARE
Lesson 1: Introduction to the Skin
Anatomy of the Skin
Skin Conditions
Herbal Actions and Herbs for Skin Conditions
RECIPES – Skin Care
Topical Applications
Lesson 2: Body Care Recipes
External Health, Internal Health
Topical Oils, Salves and Balms, Body Butters
RECIPES
Salt and Sugar Scrubs
RECIPES
Herbal Baths
RECIPES
Facial Cleansers, Moisturizers, Toners
RECIPES
Hair Care
RECIPES
Common Ingredients to Avoid
Lesson 3: Demonstration
VIDEO – Make Your Own Easy Oatmeal Cleanser
Lesson 4: Offshoot: Anti-Aging
UNIT 6: THE HOLISTIC APPROACH
Lesson 1: Introduction and Overview
Conventional Medicine
The Holistic Model
Lesson 2: The Holistic Body
Developing a Theoretical Framework
The Healing Power of the Mind
Holistic Approaches in Practice
Lesson 3: The History of Plant Medicine
The Eclectics
The First Hospitals
Whole Body Introspection
Lesson 4: Integrating the Holistic Approach
Your Place on the Spectrum of Self Sufficiency
The Next Steps – Moving Toward a Holistic Mindset
Pros About Herbal Academy's Review Introductory Course
As you can see, it goes into a LOT more detail than you would expect.
It is FULL of awesome videos that are designed specifically to show you how to do something for those of us who are visual learners.
It is FULL of recipes – some easy, some challenging, to give you practical homework and get you started experimenting with making your own herbal remedies.
Their online Facebook group is an excellent resource for questions or complaints, or simply to celebrate that you finished with!
They make you take a quiz at the end of every unit to confirm you were actually reading and not just skimming. – I needed this.
You get a printable certification at the end
CONS
The online school set up is kind of clunky – you can't progress from unit to unit without clicking back to your name, and drilling down the the course and then the unit you want.
The material is only available for a year from the date you select "Begin Course" (not the day you buy it).
What You Need to Know Before Beginning Herbal Academy's Intro Course
At the top of every unit there is a link to save the entire unit in a PDF.
Do this!
I saved the entire course into a PDF, printed it out and am keeping it in a binder so I have easy reference to the materials and recipes offline.
That way I never have to worry about losing access to it, and if I want to find a salve recipe I can simply flip through the pages of my notebook instead of having to log back into the course.
You have a year – but don't loggy-gag.
It took me four months to complete it.
That included starting a new job, and being busy with my husband out of town.
But it's so easy to procrastinate and think "oh, it'll still be there when I have time".
I did that with the Herbal Fermentation course (a MUCH shorter course) and almost ran out of time!
Click here for my review of their Herbal Fermentation course.
Introduce yourself to the Facebook group!
They're such a welcoming community and a HUGE resource of wisdom and knowledge to pull from.
Don't be afraid to ask silly questions or share a fun story.
But don't ask them for remedies for XYZ condition – they're not allowed to diagnose or prescribe by law (something you'll learn in the Herbal Entrepreneur's Course – next on my list!).
You also don't need to have all of your materials ready before you begin the class.
The class will walk you through how to make tea blends, tinctures, salves, honeys, vinegars, bath salts, etc.
But you don't need to have an apothecary full of goodies before you start!
Find a recipe or two that calls to you, get the ingredients for them and then make them at your leisure.
Remember – you're going to print out your materials so there's no rush. 😉
I also HIGHLY recommend looking into a subscription to their Herbarium to go along with the class.
It's only $45/year (and they run sales all the time so it could be even cheaper) and it's FULL of monographs (intense write ups on all types of herbs including herbal actions, history, what it treats and dosing), videos, and more.
It costs about as much as one herbal medicine book, but contains enough resources for 10!
You're actually saving money!
I also recommend looking into their short course on Materia Medica.
The intro course touches on how to create your own Materia Medica (or herbal medicine journal), but the short course expounds on it.
It's very inexpensive and building out my own personal Materia Medica has been the most rewarding, fulfilling, beneficial practice for me.
I focus on one plant at a time and really delve into my research on it (usually in the Herbarium).
I make a tea out of it, I draw a picture of it, and take notes as well as common remedies it's used in.
For an example, check out my Materia Medica: Lavender and 9 Ways to Use Lavender on the Homestead.
And as a BONUS just for readers of Hillsborough Homesteading, they've opened up a preview of one of their lessons in the Intro Course so you can get a better idea of if this course is right for you!
Click the link and take a sneak peak at their Lesson 5: Herbs for Him and Her!
If you're ready to buy, click on the banner below!